Wednesday August 4th through Saturday September 11th 2004

Please refer questions to Jeffrey Moose, 206.467.6951 or jmoose@jeffreymoosegallery.com.

Painters and printmakers Jan Erion and Cheri O'Brien will show off their latest paintings, Giclee prnits and painted purses at Jeffrey Moose Gallery, 1333 Fifth Avenue, Rainier Square from Wednesday August 4th through Saturday September 11th. The public is invited to meet the artists at a reception on Friday, August 6th from 6 pm to 8:30 pm.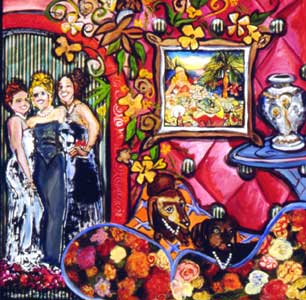 Jan Erion
"Best Girls in Pearls"
2004
Mixed media on canvas
36" x 36"

more works by Jan Erion

Erion's art is based on everyday moments from her family life, including Birthday Parties and High School Graduations, with images of food-filled tables dining rooms and happy participants. Her works defy convention with a certain zest: interiors are flattened, transforming into patterns, and humans take a back seat to food and furniture. They are quirky and punchy with powerful exaggerated colors, emotions bigger than life, a comfortable reminder of happy times. Many of the images include scraps of keepsake fabric from her family's past, old collagraph prints by the artist and other unusual collage elements from magazines and newspapers, matchbook, cigar-bands and wine labels.

A new addition to her repertoire in this show will be a line of hand painted purses collaged with her usual assortment of textile scraps and rich layers of oil paint.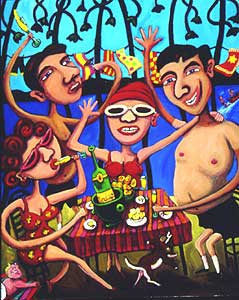 Cheri O'Brien
"Champagne Brunch at Loon Lake III"
2004
Acrylic on canvas
36"x30"

more works by Cheri O'Brien

Ms. Obrien, from Everett, paints in an expressionist style that packs a psychological wallop. She was Snohomish County Artist of the Year in 1997. She works in oil on panel, guoache on paper and acrylic on canvas. Her mealoncholy humans and animals, with enlarged heads and snake-like Olive Oyl arms, have profound personality despite their cartoony appearance. Ms. O'Brien's landscapes twist and writhe with an expressioninsm reminiscent of Thomas Hart Benton.Her subects have included couples on dates, landscapes, religious icons including various saints and a variety of animals in situations with other animals or with humans.

Ms. O'Brien has shown work in Northwest Aids Foundation exhibitions for several years as well as exhibiting in several Henry Art Gallery "Bash" exhibitions and Bumbershoot shows. Her work has been the subject of positive reviews in The Seattle Times, The Everett Herald and The Marysville Globe. This spring she published a poster for the Seattle Men's Chorus and very recently returned from Paris with fresh ideas, some of which will be on display. Ms. O'Brien has also created smaller versions of some of her most popular works for this exhibition.