Thursday June 14th, through Saturday July 31th 2004

Please refer questions to Jeffrey Moose, 206.467.6951 or jmoose@jeffreymoosegallery.com.

Artists Darlene Morgensen, Barbara Benedetti Newton, Robert Mitchell and Callahan McVay will exhibit their latest work at Jeffrey Moose Gallery and Jeffrey Moose Gallery Art Mart, located at 1333 Fifth Avenue in Rainier Square, downtown Seattle, from June 14th through July 31st. A reception will be held for the artists on Friday, June 18th from 6:00 to 8:30 PM. The public is invited to attend.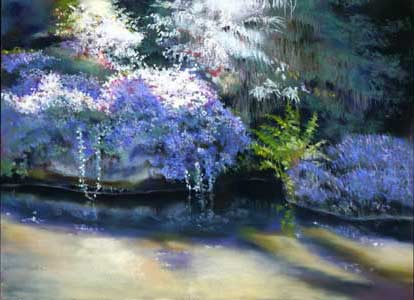 Barbara B. Newton
"Kubota Pond Morning"
2004
Pastel on paper
18.75"x25.5"
More works by Barbara B. Newton

Ms. Morgensen, part Commanche Indian and President of the Northwest Pastel Society from 1998 through 2000 and a member since 1995, works in an impressionist style in pastel on paper with plenty of emotional intensity. In this exhibition, she will exhibit a few oils on canvas for the first time. Her complex skies and sunsets are powerful, combining strong colors with subtle, virtuoso strokes and tonal fields. Recently, she established a new residence on Floridašs Gulf Coast. Some of the work in this exhibit will suggest the landscape of Florida while other images suggest Washington Sate. Many of the newest images are close-up views of reflections in water. Barbara Benedetti Newton is one of a handful of accomplished Realists in the local art scene. Her mastery of the colored pencil in still-lives and landscapes has won her numerous awards and garnered the attention of collectors for over a decade. She is the author of a book on the subject of colored pencil as a medium. And teaches the medium in classes at the Frye Art Museum. The pastel landscapes she will exhibit are considerably more relaxed than the pencil works though no less observant.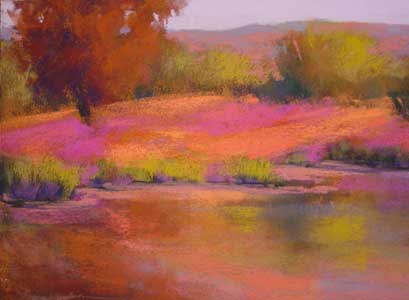 Darlene Morgensen
"Violet against Orange"
2004
Pastel on paper
8"x10"

More works by Darlene Morgensen

Also showing are two Snohomish County glass artists who share a unique relationship: that of teacher and student. Robert Mitchell, an artist who has mastered both blown and stained glass techniques, was an art teacher and mentor ,to Callahan McVay , the son and nephew of well-known chain-saw sculptors. Mr. Mitchell has created enormous commissioned stained glass works for churches, businesses and private residential clients but is also responsible for some remarkably complex blown glass works, including works with a signature blend of colors seen in vessels such as the recent Sedona series.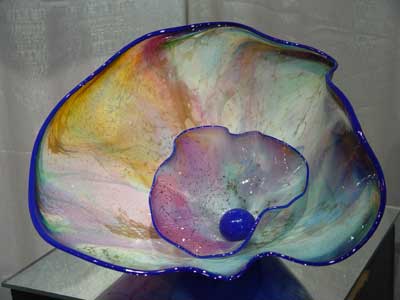 Bob Mitchell
"Pearl Bowl nest "
2004
Blown glass
8"x18"x14"
More works by Bob Mitchell

Mr. McVay, young and full of invention, creates a wide variety of works ranging from vases and bowls in classic Italian shapes, some of which incorporate silver leafing or threads of a secondary color wound about the shape, to mixed media collaborations with sculptors. His blown glass pumpkins and new "Texas Tumbler" drinking glasses, cast on the ends of honest-to-God tractor spindles, are very poular items. Recently he began Œnesting" groups of fluted bowls together creating organic underwater plant forms..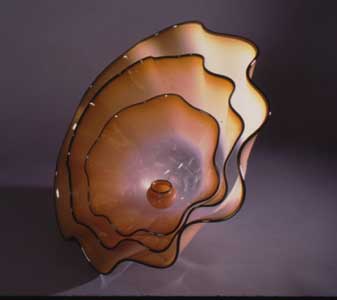 Callahan McVay
"Nested Trilogy"
2004
Blown glass
16"x10"x14"