Thursday May 6th through Sat, June 12th 2004

Please refer questions to Jeffrey Moose, 206.467.6951 or jmoose@jeffreymoosegallery.com.

Seventh Semi- Annual Celebration of the Goddess

Jeffrey Moose Gallery is proud to announce, on Mother's Day weekend, the presentation of a special gallery tradition: the Semi-Annual Celebration of the Goddess. An untamed celebration will innaugurate the mixed media group exhibition on Friday, May 7th from 6 to 8:30 PM, with a chance to meet the many artists, enjoy live music and feel loved! The exhibit will run from Thursday May 6th through Sat, June 12th.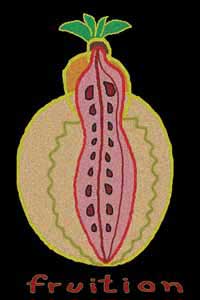 Bob Lucas
"Fruition"
acrylic on canvas
2004
36"x24"

"Probing ancient views of the Goddess is instructive. It shows a female figure almost always more powerful than the male. Not only is she his Mother, the author of his being; she is also the deity who infuses all creation with the vital blood of life. Gods prosper only when they partake of her wisdom or adopt her powers, until they commit the ultimate hubris, symbolic matricide, by setting up an all-masculine theology." *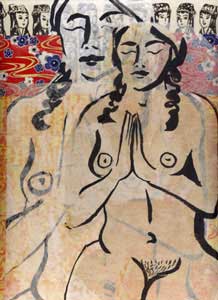 Suzanne Haddon
"Centering Myself"
sumi ink and collage on paper
2004
20"x17"

Original "Goddessess" founding exhibitors, sculptor Bob Lucas and painter Suzanne Haddon, will display brand new works: Mr. Lucas, now splitting his time between Suquamish and a remote Costa Rican village, will show paintings in watercolor, acrylic and digital media, while Ms. Haddon will show a group of mixed media paintings composed of collaged Asian papers and Sumi ink. Other participating artists include UW textile professor Lou Cabeen, Lummi Island sculptor Ann Morris, Native American sculptor Lillian Pitt, assemblage artist Ron Robertson, trained at the Black Mountain School, digital printmaker Stephen Rock, painters Donald Cole, Diane Divelbess, Jan Erion, Cheri O'Brien, Gwen Zierdt, Gloria Ruiz, Cynthia Yachtman and Joan Wortis, printmaker/painter/sculptor Long Gao, photographers Nicole Dement and Courtney LeMarco, and jewelers David Weinstock and Mahala.

* Walker, Barbara G. 1983 The Women's Encyclopedia of Myths and Secrets. SanFrancisco: Harper and Row.



Lou Cabeen
"Hand of the Goddess 3"
stitched paper collage
2003
9"x8"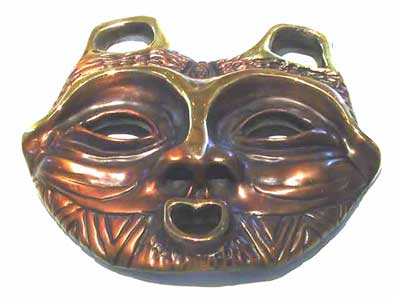 Lillian Pitt
"She Who Watches"
cast bronze, edition of 50
2002
9"x6"x1.5"

See more works from this show