February 5, 2004 May 1st 2004

Please refer questions to Jeffrey Moose, 206.467.6951 or jmoose@jeffreymoosegallery.com.

Jeffrey Moose Gallery, on the 2nd level of Rainier Square,1333 5th Avenue, Seattle, WA, is proud to announce a third exhibition of acrylic paintings on canvas and prints by artists from the Warlukurlangu Artist's Cooperative in Yuendemu, a small town in Australia's Central Desert, from Friday February 13th through Saturday, March 31st. A reception for the exhibition will be held on Friday, March 5th from 6 to 8:30 PM at the gallery. Additional Aboriginal canvases and prints will be on display on the Jeffrey Moose Gallery Art Mart space located in the underground concourse connecting Rainier Square with One Union Suqare.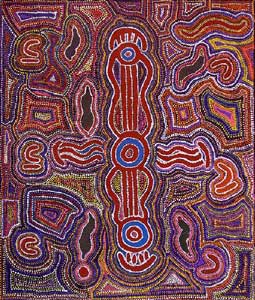 Bessie Nakamarra Sims
"Yarlu Jukurrpa (Bush Potato Dreaming)"
Acrylic on canvas
36"x30".

This show will be ideal for the beginning collector: about half of the canvases measure just 12"x24", are highly detailed and are very affordable, while the works on paper are also quite modest in price. Most of the talents featured in this show are known amongst their peers, though not yet known by the outside world. These names include Bessie Jackamarra Sims, Otto Jungarrayi Sims and Dolly Nampijinpa Daniels.

The Warlukurlangu cooperative is famous for its traditional, unspoiled imagery and reputation for integrity: the community is known as a source for enormous collaborative paintings, some including the work of as many as sixty artists and measuring as much as 12"x22". They are aslo known for traditional ground paintings, the root of all the famous dot-painting imagery from Australia's desert. One such work graced 1999's "Spirit Country" survey exhibition at San Francisco's Palace of the Legion of Honor. Collaborative community works appeared at the California show and, now, in the collection of Robert Kaplan and Margaret Levy, on display at the Seattle Art Museum.

The art names from this community include internationally recognized talents such as Judy Napangardi Watson, Paddy Japaljarri Sims and Jack Jakamarra Ross, talents from the first and third generations of Central Desert dot-painters. Sims and Ross, famous for creating traditional ground paintings at international museum shows, were awarded the Telstra (Gallery and Museum) Indigenous Art Award (from Australia's Northern Territories) for Works on Paper in 2002's competition. Works from this series, color etchings, will be on display in the exhibit.

Australian Aboriginal dot-paintings are essentially aerial maps of sacred places, composed of dots, animal tracks and symbols which describe the Dreamtime (Creation) myths of the plants and animals which have sustained select language groups for as long as 200,000 years. Aboriginal artists inheret a natural totem (plant, animal or otherwise..) upon their birth and they are obligated by tradition to spread the story to others. Contemporary painters are links in an ancient tradition of Oral History.

More aboriginal works


---

February 13, 2004 March 31 2004

Abstract painter Donald Cole will exhibit a group of four large paintings in the newly remodeled lobby of Rainier Tower, 1301 Fifth Ave, adjacent to Rainier Square in downtown Seattle, from January 16th through March. The new exhibition space is curated by Jeffrey Moose of Jeffrey Moose Gallery. A reception for the artist will be held in the lobby on First Thursday, February 5th during the lunch hour, from 11 AM to 2:00 PM.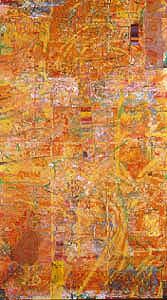 Donald Cole
"Par"
2000
Acrylic on canvas
84"x48"

Mr. Cole is a New York transplant, now living on Vashon Island. While in New York City, for some 35 years, he developed an intriguing, complex style of abstract imagery which takes cues from microscopic organic forms and mimics natural textures as well as Asian calligraphy. He is a mature, mid-career painter with an extraordinary repertoire that ranges from brittle and caustic to gentle and mellifluous.

The inspiration for works in this exhibition came from a recent trip to India which Mr. Cole made with his wife. They paid special attention to the Southwest Province of Kerala, an area known for its unique written language and storytelling traditions.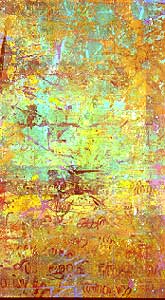 Donald Cole
"Swyambhu"
2000
Acrylic on canvas
84"x48"

The paintings have a weathered, antiqued look, appearing as surfaces with many layers of worn, sunbleached paint. Upon closer inspection, the textures are revealed to be composed of characters in Malayalam, the language of the Province. One of the works, which all measure 84 inches high by 48 wide and are acrylic on canvas, entitled "Par", is filled with barely recognizable tiny narrative figures and animals in combination with the glyphs. The title refers to a large cloth covered with images used by travelling storytellers in the villages of Rajastan. Without translation or contextual information these gentle but complex images evoke a feeling of objects both ancient and sacred.

Mr. Cole's exhibition history is most impressive, going back to 1968 and including: many shows with the Frank Marino Gallery and the Nancy Hoffman Gallery in NYC, shows at the prestigious New York Academy of Arts and Letters, The Museum of Modern Art as well as museum shows at The Philadelphia Museum of Art, the Delaware Museum, and the Indianapolis Museum of Art, several international shows including venues in Paris and Tokyo and scores of college and university exhibitions throughout the East Coast.