November 2003 Janauary 2004

Please refer questions to Jeffrey Moose, 206.467.6951 or jmoose@jeffreymoosegallery.com.

Jeffrey Moose Gallery will celebrate a pair of holiday exhibitions in Rainier Square, one in the gallery space on the second level of Rainier Square and another in the new Jeffrey Moose Gallery Holiday Art Mart, located at the beginning of the Concourse connecting the square with One and Two Union Square on Friday, November 14th. A reception will be held from 5:30 to 8:30 and will include live music and a huge crew of more than 20 participating artists.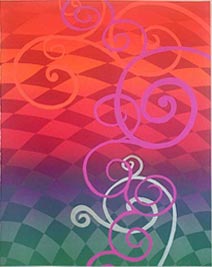 Al Loving
"Mara Series A #7"
2003
Offset print on paper, color variable edition
27.5"x21.5"

The Holiday Art Mart was created with value in mind, to reflect the realities of today's economy. It is a 2700 square foot eclectic mix of paintings, prints, furniture, glass, ceramics, jewelry, photography, cards and fun. It will be open M-F from 11 to 4PM and by appointment, while the gallery is open M-F 10-6, Sat 12-5. Exhibitions in both spaces will run through January.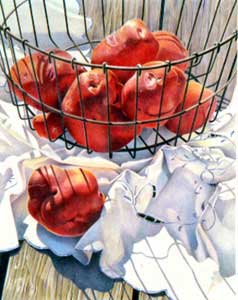 Barbara Benedetti Newton
"A Charmed Life"
2003
Colored Pencil on paper
21.5"x17"

Of special note are new offset prints by legendary African American painter/sculptor Al Loving (recently recovered from heart surgery), colored-pencil still lives by Frye Museum instructor Barbara Benedetti Newton, a stunning group of new vases and stained-glass stand-alones by glass artist Bob Mitchell, linocuts from our First-Ever for the US show of totemic linocuts from the Torres Strait Islands and brand new jewelry in gold and precious stones by David Weinstock, just back from a gem buying trip to Thailand.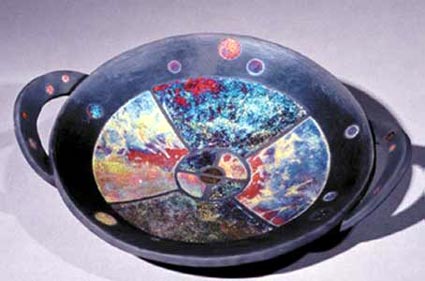 Michele Rudenko
Raku tray with handles
2003
Raku fired eathenware with glaze
20" diameter, 5" high.

Some artists will provide live demonstrations or videos of their mediums. A schedule of demos will be updated in early November.

New to the gallery are furniture maker Randy Smithers, glass artists Callahan McVay and Robert Mitchell, ceramic artists Randy Guest , Michele Rudenko and Jamil Sherief, painters Manya Drobnack, Gloria Ruiz, Michele Soderstrom and David Buxton, Batik artist Eric Hauptman, draftsman and digital artist Stephen Rock and photographers Nichole DeMente and Terry Moyemont and Alina Holladay.

The exhibition will be divided as follows:

Jeffrey Moose Gallery Exhibitors
Al Loving-New Prints!!

Lillian Pitt-sculpture, prints & jewelry


Long Gao-paintings & prints & carvings


David Weinstock-jewelry

Jan Erion-paintings, prints & cards
Bob Mitchell & Callahan McVay-Blown & stained Glass / functional and NON


Eric Hauptman-batiks

Alina Holladay- photographs


Manya Drobnack-paintings

Gloria Ruiz-paintings and carvings


Stephen Rock-original art, prints & antique map reproductions


Barbara Benedetti Newton-landscapes & still lives

Jeffrey Moose Gallery Art Mart Exhibitors
Darlene Morgensen-pastel landscapes

Terry Moyemont - garden photographs


Robert Mitchell-stained & blown glass

Long Gao - Paintings and Prints


Michele Soderstrom-paintings & prints

Nichole DeMent-photographs


Julie Mistaria - exotic stone beaded jewelry


Randy Guest-porcelain chimes & fixtures


Heather Wallis Murphy-paintings & cards


Callahan McVay-blown glass

Cheri O'Brien-Paintings


Bob Lucas-cast concrete fish, Goddesses & cool stuff


Australian Aboriginal Artists-paintings & prints


Jan Erion-paintings, prints & cards

Mahala-jewelry


Larry Ahvakana-stone-cut prints and hand carved masks


Randy Smithers-furniture

Lillian Pitt-sculpture, prints & jewelry


Michele Rudenko and Jamil Sherief - ceramics


ONCE AGAIN: Both spaces will open with festive, music filled events on Friday, Nov. 14th, 5:30 - 8:30 PM.