September 2003

Please refer questions to Jeffrey Moose, 206.467.6951 or jmoose@jeffreymoosegallery.com.

"Explorations: Manya Drobnack and Gloria Ruiz"

Opening with a reception Friday, September 19th from 5:30 to 8:30, Jeffrey Moose Gallery will feature a pair of abstract painters from the United States and Colombia, Manya Drobnack and Gloria Ruiz. The show runs through November 8th.

The exhibition was assembled to compliment SAM's curent show of International Abstraction.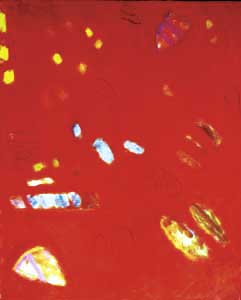 Manya Drobnack
"All About Red"
2003
Oil on canvas
30"x40".

More works by Manya Drobnack.

Manya Drobnack is a Mercer Island resident who hails from an interesting European background; her grandmother was a Russian artist who studied at the Imperial School of Art in St. Petersburg at the turn of the century. With this interesting heritage, Ms. Drobnack has been exposed to the work of many early European abstractionists. To that influence is added her experience of living abroad for many years in Indonesia, Hong Kong, South Africa and Australia. Her paintings, ranging from 24"x18" to 72"x48", combine elements of Color-Field painting with organic patterns and plankton-like forms that feel like happy, self contained playground worlds. And though her paintings emit a care-freejoie de vivre, her serious side has kept her hard at work in workshops and classes with respected artists including New York legend Al Loving, Mark Takamichi Miller, and Maxi Power. Ms. Drobnack's work continues as an arts administrator: board member for Pratt Fine Arts Center, where she is current President and in the past serving also on the Board of Pilchuck Glass School.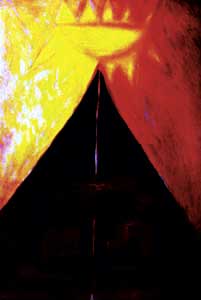 Gloria Ruiz
"I Am"
2002
Oil on canvas
28"x40"

More works by Gloria Ruiz.

Ms. Ruiz, who left Colombia just five years ago, holds an M.A. from the State Institute of Fine Arts of Colombia. She works in oil paint, sometimes combined with soil, depicting symbols which refer to her Colombian ancestry as well as to universal pre-Christian runes and glyphs . For most of her life she lived in the city of Cali, Colombia, a place that has been torn by the violence of the drug trade and a determined separatist rebel movement. Her spiritual, introspective visions are largely reactions to that environment; the works whisper her existence in gentle yet profound manner. Successive series of works, starting in college, refer to stages of the artist's emotional developement. Ms. Ruiz has been exhibiting internationally since 1997 in South America, Europe and the US. "Explorations" will reveal to visitors the conceptual, carefully manuvered path that these two women have travelled to find themselves on canvas.