August 2003

Please refer questions to Jeffrey Moose, 206.467.6951 or jmoose@jeffreymoosegallery.com.

Studio mates and mixed media artists Jan Erion and Cynthia Yachtman will show a group of new works in Jeffrey Moose Gallery, 1333 Fifth Avenue, Rainier Square, downtown Seattle, from July 30th through September 13th. The exhibit will open with a reception and a chance to meet the artists on Friday, August 1st, from 5:30 to 8:30 PM.

The two artists work in the space now known as the "Northwest Worklofts Building", formerly the Northwest Industrial Building. Though they share space, for almost ten years and through two relocations, their styles and approaches are quite different. While Ms. Erion prefers dark lines and bold colors to depict her richly textured scenes of people feasting and vacationing, Ms. Yachtman uses a similarly large array of media to produce images much softer and more quiet.

Both artists have interesting careers academically and professionally; they hold multiple college degrees and have successfully pursued careers outside of the art world. This may help explain their success together. As studio mates they have applied for and been accepted to a variety of juried events such as studio tours, unusual venues and non-profit spaces including the Seattle Art Museum Studio Tours, Bumbershoot exhibitions, the Virginia Inn and the OK Hotel. This year the pair was selected to join 38 local artists exhibiting painted umbrellas at the 22nd annual Bumbershoot arts and music festival.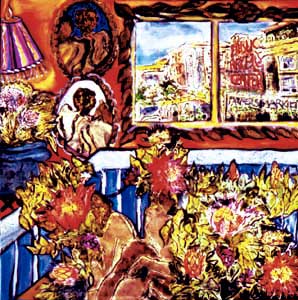 Jan Erion
"Artichoke Hearts"
2003
Mixed media on canvas
36"x36"

The exhibition will feature an unusual component: the artists will comment on each others work and work process in quotes to be placed throughout the show.

Ms. Erionís art is based on everyday moments from her family life, including Birthday Parties and High School Graduations, with images of food-filled tables dining rooms and happy participants. Her works defy convention with a certain zest: interiors are flattened, transforming into patterns and humans take a back seat to food and furniture. They are quirky and punchy with powerful exaggerated colors, emotions bigger than life, a comfortable reminder of happy times. Many of the images include scraps of keepsake fabric from her family's past, old collagraph prints by the artist and other unusual collage elements from magazines and newspapers, matchbooks and wine labels.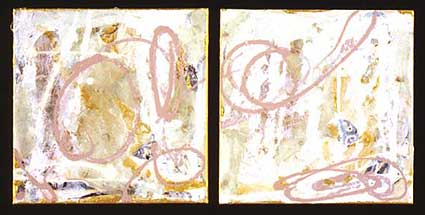 Cynthia Yachtman
"Honor"
2003
Mixed media on canvas
12"x24"

Ms. Yachtman has worked in a huge array of media over the course of her career, including ceramic, watercolor and oil. For years, she has studied insect shapes in her work, rendering them realistically while setting them against a variety of textured backgrounds created with collaged hand-made paper, layers of acrylic paint, charcoal and other drawing media. Recently, her work has taken a turn to the abstract and while the insects are not visible, their fragile, transparent nature is emphasized by partially revealed information hidden under semi-opaque layers. The layers seem like delicate wings, their colors soft and slight.

Ms. Yachtman has degrees from both the University of Michigan and the University of Washington and has been exhibiting locally since the late 80's. She has worked as a production potter, an art instructor to the handicapped and as an arts administrator in several capacities.