June 2003

Please refer questions to Jeffrey Moose, 206.467.6951 or jmoose@jeffreymoosegallery.com.

Artists Darlene Morgensen, Barbara Benedetti Newton and Terry Moyemont will team up for a show of landscape imagery at Jeffrey Moose Gallery and Jeffrey Moose Gallery Art Mart, located at 1333 Fifth Avenue in Rainier Square, downtown Seattle, from June 4th through July 18th. A reception will be held for the artists on Friday, June 6th from 5:30 to 8:30 PM. The public is invited to attend.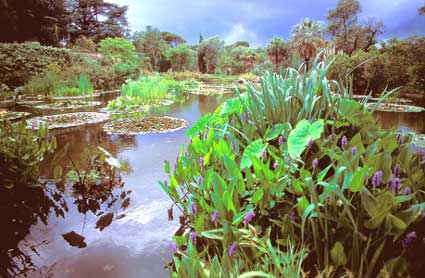 Terry Moyemont
"Les Cedres Water Lillies"
2002
Color photograph on watercolor paper.
16"x32".


Ms. Morgensen, part Commanche Indian and President of the Northwest Pastel Society from 1998 through 2000 and a member since 1995, works in an impressionist style in pastel on paper with plenty of emotional intensity. Her complex skies and sunsets are powerful, combining strong colors with subtle, virtuoso strokes and tonal fields. The magic water/mountain environments of her former home in the Olympic Peninsula serves as rich subject matter. Recently, she established a new residence on Floridaís Gulf Coast. Some of the work in this exhibit will feature the landscape of Floridaís coast and that of the Everglades, "Gator Alley", west of Miami. Ms. Morgensen has had reviews and interviews published in the nationally distributed Pastel Journal and issues of The Northwest Pastel Society's newsletter. Her work has earned her a half dozen first place and many other awards in the 9 year period that she has been making pastel paintings. During the Seattle Art Museumís popular Impressionism exhibit in 1999, Ms. Morgensen was hired as an artist in residence, performing demonstrations and answering questions for visitors.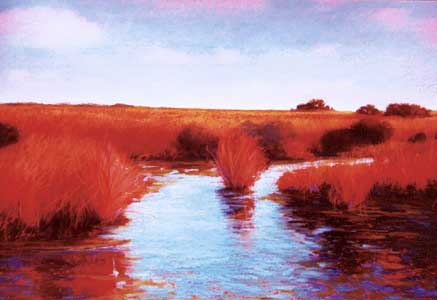 Darlene Morgensen
"Evening Reflections"
2003
Pastel on paper
32"x40"
More images from Darlene Morgensen

Barbara Benedetti Newton, new to the gallery and originally trained as a commercial artist at Burnley School of Professional Art (now the Art Institute of Seattle), is one of a handful of accomplished Realists in the local art scene. Her mastery of the colored pencil in still-lives and landscapes has won her numerous awards and garnered the attention of collectors for over a decade. She is the author of a book on the subject of colored pencil as a medium and has taught at museums, art schools and as a private instructor The pastel landscapes she will exhibit are considerably more relaxed than the pencil works though no less observant. Photographer/Videographer Terry Moyemont, a resident of Bainbridge Island, adds his perspective to this focus on Terra by the inclusion of selections of his color photos of rich gardens, both Mediterranian and local, taken from a group of images which he and his botanist/gardener wife plan to use in an upcoming book on the popularity of Mediterranian style in contemporary landscaping. Mr. Moyemont, who speaks several languages and owns a 500 year old stone house on the island of Crete, has developed a reputation as a photographer, PBS documentary film producer and teacher. Several important projects received full funding from the National Endowment for the Arts and the John D.and Catherine T. MacArthur Foundation.

Our event will compliment the "World in Focus" environmental photo exhibition in Rainier Square, sponsored by Photo Media Magazine, which will also open at 3:30 PM on fri, 6/6.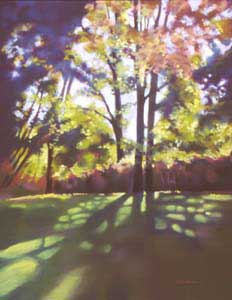 Barbara Benedetti Newton
"Saving Grace"
2003
Pastel on paper
20 3/4"x15"


More images from Barbara Benedetti Newton