April 2003
Please refer questions to Jeffrey Moose, 206.467.6951 or jmoose@jeffreymoosegallery.com.

Jeffrey Moose Gallery, on the 2nd level of Rainier Square,1333 5th Avenue, Seattle, WA, will present, for the first time EVER in the U.S., an exhibition of colored linocuts by indigenous artists from the western portion of the Torres Straight Islands, "Gelam Nguzu Kazi-Dugong My Son", from April 4th though the month of May. A reception to kick-off the show will be held on Friday, April 4th from 6 PM to 8:30 PM.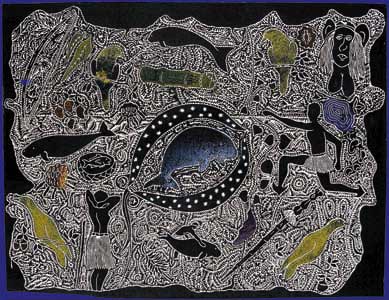 David Bosun
"Gelam Nguzu Kazi - Dugong My Son"
2000
Color linocut
Paper: 20.5"x29.9" Image;18.1"x24.0"

Few people outside of the South Pacific region have ever heard the name of this collection of over 100 islands, known for their sparkling shallow waters teeming with marine life, their mangrove swamps, solitary volcanos, extensive reefs and sand banks, and, in the past, head-hunter cannibals with an apetite for their neighbors. The islands are located in the passage of ocean separating the peninsula of Cape York, in Australia's Northeastern Queensland, and the southern tip of Papau New Guinea. Though European treasure-taking has all but vanquished the rich cultural legacy of these people, through a combination of unbroken oral tradition and the studies of artifacts in European museums, the creation myths of the Islanders are being re-told and are touring the world in the richly colored and intricately drafted scenes of these relief impressions.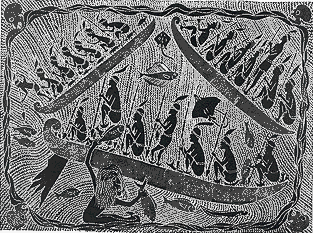 Victor Motlop
"Seven Blind Brothers, State I"
Color linocut, paper:20.9x29.9" image: 18.1"x24.4"


The exhibition is composed of work by four artists, known as the Mualgau Minaral Artist Collective: Dennis Nona, the group's founder, David Bosun, Billy Missi and Victor Motlop. Each is under forty years old and represent communities on islands throughout the Western Torres Straight.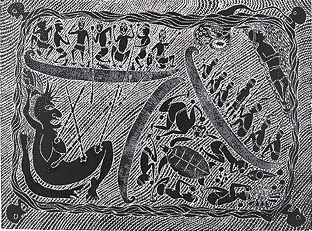 Victor Motlop
"Seven Blind Brothers, State II"
Color linocut, paper:20.9x29.9" image: 18.1"x24.4"


Among the most important ceremonial items in their history are turtle shell masks with intricate linear designs carved on the borders. Each clan and tribal group has its own distinctive patterns. The prints are an extension of that tradition; dreamy aquatic textures are the backgrounds for the sharks, sea turtles, manatees (known in the region as "Dugong"), fish and fauna and human ancestors who float, frozen in their creation myths.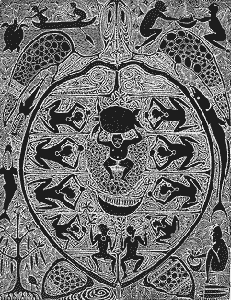 Dennis Nona
"Goba, State I"
Color linocut, paper: 29.9"x22.0"
image: 24.4"x18.9"

Color plays an important role in these prints, contrasted with black key-line information, and it is applied with an unusual printmaking trick. A technique, known in French as " a la poupee", is employed to re-ink the black linoleum block with fresh colored ink, before the paper is removed from the press, and the paper is run back through the press, creating a dramatic, relief effect.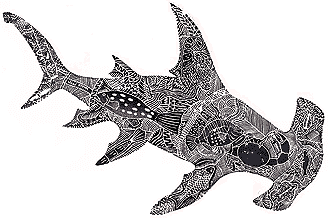 David Bosun
"Lagau Mabaigau Malu Aidal"
Color linocut
paper: 21,1"x29.7", image: 17.7"x27.6"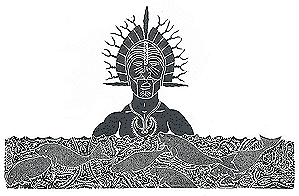 David Bosun
"Maidhalgau Bibir"
Color linocut
paper: 15.2"x21.1" image: 11.2"x17.3"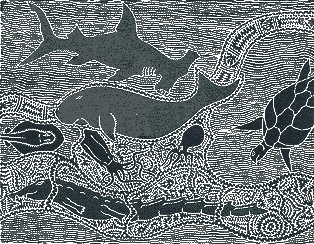 David Bosun
"Malu Augadhal-Sea Totems"
Color linocut
paper:15.0"x22.4", image: 9.1"x12.2"