December 2002
Please refer questions to Jeffrey Moose, 206.467.6951 or jmoose@jeffreymoosegallery.com.

Jeffrey Moose Gallery will celebrate a pair of holiday exhibitions in Rainier Square, one in the gallery space on the second level of Rainier Square and another in the new Jeffrey Moose Gallery Holiday Art Mart, located at the beginning of the Concourse connecting the square with One and Two Union Square on Friday, Dec. 6th. A reception will be held from 5:30 to 8:30 and will include live music and a huge crew of the more than 20 participating artists.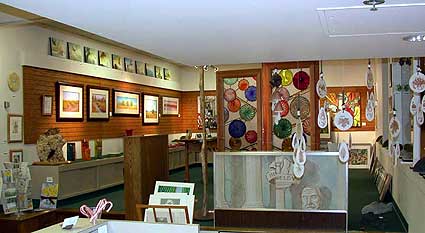 Holiday art mart interior.

The Holiday Art Mart was created with value in mind, to reflect the realities of today's economy. It is a 2700 square foot eclectic mix of paintings, prints, furniture, glass, ceramics, jewelry, photography, cards and fun. It will be open M-F from 11 to 4PM and by appointment, while the gallery is open M-F 10-6, Sat 12-5. Exhibitions in both spaces will run through the first week in January.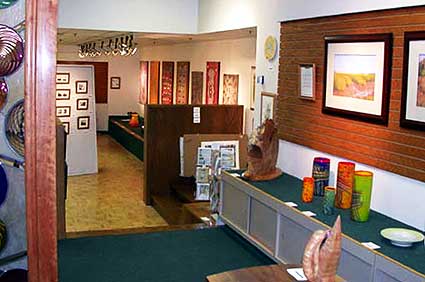 Holiday art mart interior.

Demonstrations will take place each Friday between 12-2 PM at the Art Mart!

New to the gallery this year are furniture maker Randy Smithers, glass artists Callahan McVay and Robert Mitchell, ceramic artists Randy Guest and Lorna Smith, painter Michele Soderstrom, draftsman and digital artist Stephen Rock and photographers Nichole DeMente and Julia Kuskin.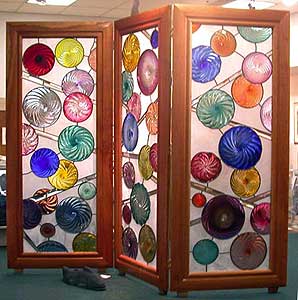 Bob Mitchell
"Rythmic Repetition"
three stained glass panels in a Black Cherry Frame
8'x4'

Lillian Pitt-sculpture, prints & jewelry Long Gao-paintings & prints David Weinstock-jewelry
Jan Erion-paintings, prints & cards
Joe Feddersen-mixed media prints
Rick Stafford-Neriage porcelain
Australian Aboriginal Artists-paintings & prints
Callahan McVay-blown glass
Stephen Rock-prints & antique map reproductions
Catherine Gill-landscapes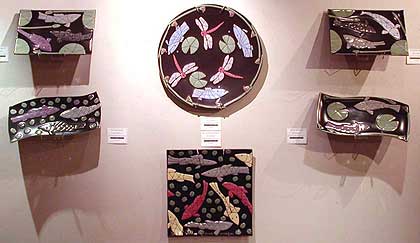 Rick Stafford Neriage Porcelain display.
A variety of porcelain serving vessels
featuring Rick's new "Pond" motif

Jeffrey Moose Gallery Art Mart Exhibitors

Darlene Morgensen-pastel landscapes
Robert Mitchell-stained & blown glass
Catherine Gill-mixed media landscapes
Michele Soderstrom-paintings & prints
Randy Guest-porcelain chimes & tableware
Lillian Pitt-sculpture, prints & jewelry
Lorna Smith-ceramic tableware
Callahan McVay-blown glass...DEMO VIDEO 12/20
Bob Lucas-cast concrete fish & cool stuff
Long Gao-paintings & prints
Australian Aboriginal Artists-paintings & prints...DEMO VIDEO 11/29
Jan Erion-paintings, prints & cards...DEMOs: 11/22 and 12/13
Mahala-jewelry
Larry Ahvakana-stone-cut prints
Nichole DeMent-photographs
Jeff Mihalyo-miniature paintings
Julia Kuskin-photographs
Randy Smithers-furniture...DEMO: 12/6
Heather Wallis Murphy-paintings & cards


ONCE AGAIN: Both spaces will open with festive, music filled events on Friday, Dec. 6th from 5:30 to 8:30 PM.

A Reminder: Chinese Master Artist Long Gao's landscapes in oil will be displayed in the lobby of One Union Square through December. Go see them!!

For more information, please contact Jeffrey Moose Gallery, 206 467 6951 or via e-mail at: jmoose@oz.net. The gallery is open M-F 10-6 pm and 12-5 on Sat.

More images from this exhibit