August 2nd - September 14th 2002
Please refer questions to Jeffrey Moose, 206.467.6951 or jmoose@jeffreymoosegallery.com.
Jan Erion, Cheri O'Brien and Rick Stafford at Jeffrey Moose Gallery, Sept/Oct

Jeffrey Moose Gallery is pleased to announce the return of the Dynamic Duo of expressionist painters Jan Erion and Cheri O'Brien, together with Bainbridge Island porcelain powerhouse Rick Stafford, in an exhibition to run September 18th through October 26th. A reception will celebrate the installation on Friday, September 20th from 5:30 to 8:30 PM.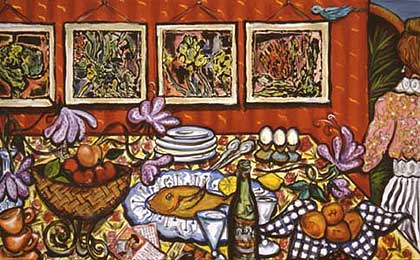 Jan Erion
"Dance of the Flowers"
mixed media on canvas
30"x40"


More Examples by Jan Erion



Ms. Erion's art is based on everyday moments from her family life, including Birthday Parties and High School Graduations, with images of food-filled tables dining rooms and happy participants. Her works defy convention with a certain zest: interiors are flattened, transforming into patterns and humans take a back seat to food and furniture. They are quirky and punchy with powerful exaggerated colors, emotions bigger than life, a comfortable reminder of happy times. Many of the images include scraps of keepsake fabric from her family's past, old collagraph prints by the artist and other unusual collage elements from magazines and newspapers, matchbooks and wine labels. Several of her latest images feature beach scenes from the artist's Widbey Island home Ms. Erion has been exhibiting and participating in charity art events and on museum boards for more than 15 years.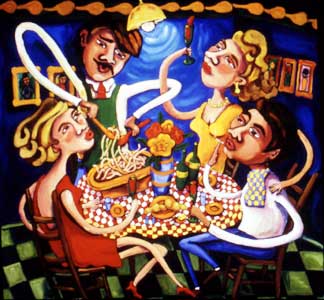 Cheri O'Brien
"Dinner at Guiseppe's"
acrylic on canvas
36"x36"

More Examples by Cheri O'Brien



Rick Stafford is a Bainbridge Island ceramist whose work in porcelain has been compared with some of the best in the medium. Stafford, a student of the legendary Central Washington University ceramist and professor Richard Fairbanks, works in Japanese techniques such as Neriage, Nerikomi and Shigarake. Neriage, Stafford's primary medium, is a method by which the artist creates patterns and images in the surface of the work using different colors of clays instead of using glazes. Nerikomi is a wheel-thrown version of the Neriage technique. His recent "Pond Series" works, playful patterns featuring dragon flies and water lillies surrounding the perimiters of trays and platters, are popular at high-end ceramic dealers nation-wide. Mr. Stafford has exhibited in numerous prestigious juried ceramics exhibitions throughout the U.S. including The American Craft Council Shows in San Francisco and Philadelphia and the Fountain Hills exhibition in Arizona. Recently, his work was accepted into the prestigious Museum of American Craft in Manhattan.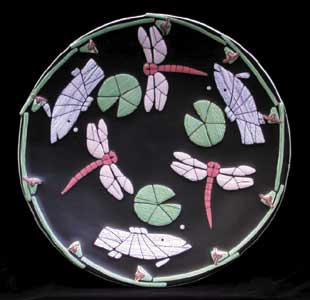 Rick Stafford
Pond Series signature round platter
2002
Neriage Porcelain
20" diameter, 4" deep