August 2nd - September 14th 2002
Please refer questions to Jeffrey Moose, 206.467.6951 or jmoose@jeffreymoosegallery.com.
Catherine Gill and Darlene Morgensen

Seattle painter/printmaker Catherine Gill and Chimacum pastelist Darlene Morgensen will exhibit a group of landscapes depicting Alaska and the Northwest in Jeffrey Moose Gallery, 1333 5th Ave, Seattle, from August 2nd through September 14th. A reception for the artists will be held on Friday, Aug 2nd from 5:30 to 8:30 PM at the gallery. Ms. Gill is well known in the Seattle area as an artist and art teacher. She has lived in the Northwest for 20 years, painting scenes of the waterfront in the Puget Sound and traveling to paint and teach in Alaska every summer. Woks in the exhibition come from this year's Alaska journey. Her primary medium is a unique blend of watercolor and pastel on paper (the combination of the media creates a unique surface), but she also makes monotype prints and works in oil on canvas.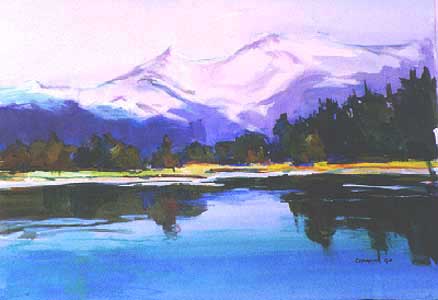 "Alaska"
© Catherine Gill
2002
Pastel and watercolor on paper
19"x30"

More Examples by Catherine Gill

Ms. Gill has exhibited at the Frye Art Museum in Seattle, the Mystic Seaport Museum, Mystic, Conn., The American Watercolor Society, New York, The Museum of the Rockies in Montana, The Arizona State Historical Museum in Phoenix and has had solo exhibitions at the Edmunds Art Museum, Edmunds, WA, The Stonington Gallery in Seattle, the Eileen Enck Gallery, Bellevue, WA and several other west coast locations. Ms. Gill is a co-founder of Art Partners, a non profit group organizing artist's exchanges with recent programs in Kuwait, Ireland and China. Past Northwest Pastel Society president Darlene Morgensen focuses on scenes from out of the way spots on the Olympic Peninsula, and the Puget Sound, often near her home. Her dramatic sunsets and skilled renderings of cloudy skies put her in a league with the most sensitive of landscape artists. This group of paintings will provide several "panoramic" images, long horizontals about two by painter/printmakernear Yakima.




"Red Skies"
© Darlene Morgensen
2002
Pastel on paper
22"x52".

More Examples by Darlene Morgensen

Featuring locations on the Olympic Peninsula as well as Eastern Washington, in farm country near Yakima. Her skill has been recognized by institutions and individuals alike. She has taught and demonstrated at the Seattle Art Museum during the recent show of Impressionist paintings and at Daniel Smith, Inc. Her professional affiliations, aside from the Pastel Society, include the Pastel Society of America and the American Artist's Professional League.