June 6th through July 27th 2002
Louise Britton and Jeff Mihalyo: New Works

On Friday, June 14th from 5:30 to 8:30 PM, surrealist painters Louise Britton and Jeff Mihalyo will celebrate the installation of a group of new work with a reception at Jeffrey Moose Gallery, 1333 5th Avenue, the second level of Rainier Square in downtown Seattle. The exhibition will open on Wednesday, June 5th and run through Saturday, July 27th.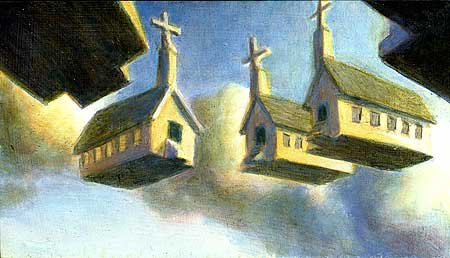 Jeff Mihalyo
"Congregation"
2001
Oil on Wood
2" X 4.5"
More examples by Jeff Mihalyo

Mr. Mihalyo, the Master of the OK Hotel Mural, has been exhibiting in the Seattle area for over ten years while working as a designer and illustrator for numerous high-end clients including Microsoft, Dreamworks, Millstone Coffee, Hornall Anderson, Real Networks and Jim Hennson Studios. His soft-edged realism often comes with a humorous twist; churches, giant shoes and barns fly through the sky with a touch that lends an air of fun rather than the ominous incongruity often connected with works in the surreal genre. And while "Fun", the works are far more than illustrations for children's books. They carry an air of the narrative while existing as stand alone metaphors for conflicts in modern life: interpersonal relationships, man vs. nature, religion vs. natural selection, Pastoral America vs. the Electronic Age.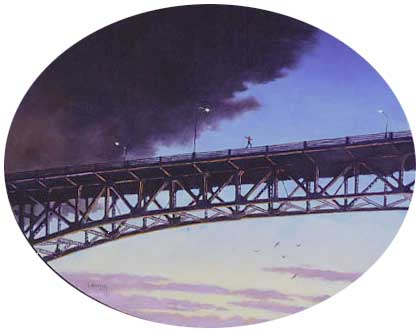 Louise Britton
"Balance"
2002
16" x 20" oval
oil on canvas
More examples by Louise Britton

Louise Britton, a transplant from Atlanta, Georgia, paints in a style more hard-edged than that of Mr.. Mihalyo. Her style is reminiscent of Magritte; virtuoso underpainting and modeling are hallmarks. She creates tension by focusing on ironic scenes from everyday life, but is just as likely to delve into fantastical non-sequiturs. Her latest efforts include a chilling group of paintings set in the old Oakland Cemetery in Atlanta. Like Mr. Mihalyo, Ms. Britton has also worked as an illustrator and commercial artist as well as an exhibiting fine artist. She holds an MFA from Georgia State University.

Read an article about this show