January 14th through Saturday, February 16th 2002
Please refer questions to Jeffrey Moose, 206.467.6951 or jmoose@jeffreymoosegallery.com.
Sixth Annual Celebration of the Goddess

Jeffrey Moose Gallery is proud to announce the revival of a special gallery tradition: the Annual Goddessess Exhibition. An untamed celebration will innaugurate the mixed media group exhibition on Friday, April 19th from 6 to 8:30 PM, with a chance to meet the many artists, enjoy live music and feel loved! The exhibit will run from Monday April15th through Sat, June 1st.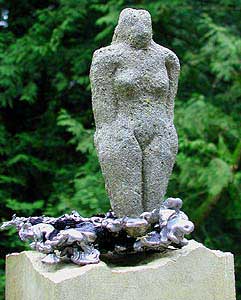 "Standing Concrete Goddess"
© Bob Lucas
2002
cast concrete, mixed media,
12"x6"x4".

Now more than any time in recent memory, it is time to invoke the image of the Goddesss in all her nurturing, forgiving and benevolent ways. Original "Goddessess" founding exhibitors, Suquamish sculptor Bob Lucas and painter Suzanne Haddon (formerly of Seattle, now living in California), will display brand new works: Mr. Lucas will show sculpture in steel, clay and concrete, video compositions and a group of commemorative lanterns made of paper and wax, while Ms. Haddon will show a group of mixed media paintings composed of collaged Asian papers and Sumi ink.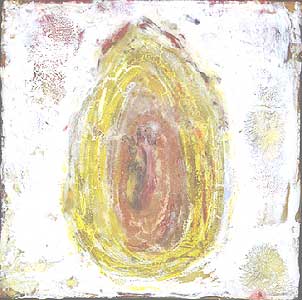 Kamla Kakaria
"Contemplating Lakshmi #1"
'02
Encaustic on board
5"x5"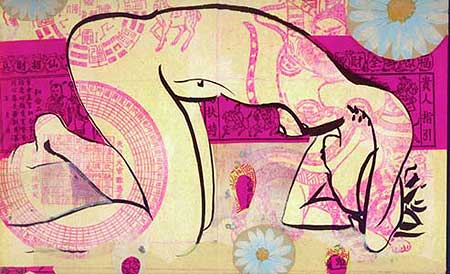 "China Girl"
© Suzanne Haddon
2002
sumi ink on collaged paper
11"x14"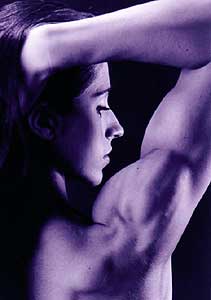 Fredric Lehrman
"Body Prayer #2"
Color photograph
10"x8"



More images from the Goddess 6 Exhibition