January 14th through Saturday, February 16th 2002
Please refer questions to Jeffrey Moose, 206.467.6951 or jmoose@jeffreymoosegallery.com.
In honor of Black History Month, Jeffrey Moose Gallery and Pratt Fine Arts Center present Second Generation New York Abstract artist Alvin Loving , to open a show of new works, acrylics on paper and plexiglass as well as monoprints, at the Gallery, 1333 Fifth Avenue, Rainer Square on Friday, February 22nd from 6 to 8 PM. The exhibition will run from February 19th through April 9th.

Mr. Loving will also exhibit a group of his monoprints at the Painted Table Restaurant, 92 Madison St., Seattle, for the months of February and March. A reception will celebrate the exhibition on First Thursday, Feb. 7th from 5 to 6:30 PM.

Mr. Loving, who has worked with legendary black printmaker Bob Blackburn, will also teach a Master Artist class in monotype printmaking at Pratt Fine Arts Center March 4th through the 8th. On Friday evening, March 8th at 7 PM he will give a slide lecture at 7 PM in the Rainier Square Conference Center on the 3rd level of the Rainier Square Atrium. The event is free and all interested collectors, social historians and artists should attend!

Mr. Loving has a strong reputation as a "Color Constructionist" and a collage artist for his lyrical, assymetrical assemblies of acrylic-painted paper cut into fantastical shapes, often favoring spirals, and mounted on plexis glass layers. Some more famous white aritists have "approprited" several of Mr. Lovings most noteworthy stylistic mannerisms....

Born in Detroit, with a MFA from the University of Michigan in '65, Loving shot to the attention of the art world when, four years after graduating, he had his first solo exhibition at the Whitney Museum of American Art (1969). Since then, he has exhibited in four additional Whitney exhibitions and shown at the Metropoolitain Museum of Art, The Detroit Art Institute, several international invitationals and scores of smaller museums, university and college shows. Three NEA grants, a Gugenheim Fellowship and a Joan Mitchell Award stand among his recognitions.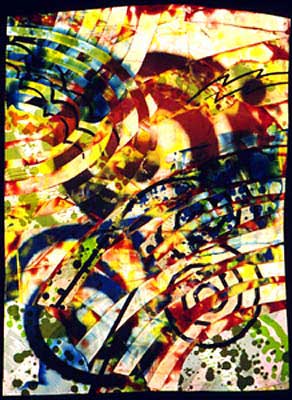 More images by Al Loving