October 19th - November 17th 2001
Please refer questions to Jeffrey Moose, 206.467.6951 or jmoose@jeffreymoosegallery.com.
Jeffrey Moose Gallery is pleased to announce a Holiday exhibition of Brand New mixed media paintings and collagraph prints by artist Jan Erion in the Gallery, 1333 Fifth Avenue, on the second level of Rainier Square in downtown Seattle, November 20th through December 29th. A reception to celebrate the first formal show of Ms. Erion's work this year will take place on Saturday, November 24th, an afternoon event, from 2PM to 5PM. Special Entertainment and refreshments will be provided.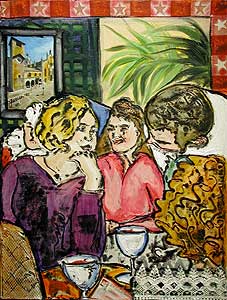 The exhibition, entitled "Snap Shots", is based on the normally cliché approach of quick-grab images of everyday moments from the artist's life, including Birthday Parties and High School Graduations, with images of food-filled tables and dining rooms. These works defy the convention with a certain zest. They are quirky and punchy with powerful exaggerated colors, emotions bigger than life, a comfortable reminder of happy times.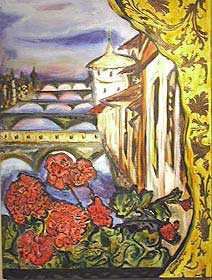 "Buon Giorno"
24"x20"

Many of the images include scraps of keepsake fabric from her family's past, old collagraph prints by the artist and other unusual collage elements from magazines and newspapers, matchbooks and wine labels. The stylistic hallmarks of Ms. Erion are her choice of bold complimentary colors, heavy black outlines and multi-media textures.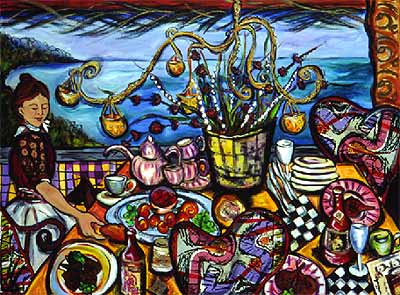 "Candelabrum"
30"x40"

Ms. Erion has been a printmaking instructor at Pratt Art Center in Seattle and a former member of the Executive Committee of the Contemporary Arts Council of the Seattle Art Museum. Last year the artist was selected to create poster art for the Washigton State Wine Commission's Annual Auction of Northwest Wines and completed three enormous commissioned works for The Painted Table Restaurant. In 1997, she was commissioned by Absolut Vodka to do a work in support of a national AIDS awareness program, which now hangs in their corporate collection. She has exhibited extensively in Seattle and has been vigorously involved in many aspects of the local art scene.Through Jeffrey Moose Gallery, Ms. Erion published three editions of prints which decorate rooms in the Alexis hotel.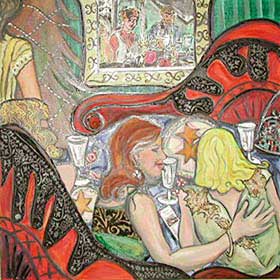 "Christmas Cookies"
36"x36"

Unframed, shrinkwrapped prints by Ms. Erion will be available at special Holiday prices.

Jeffrey Moose Gallery is proud to announce two new components to the business:

1. An upcoming catalogue of fine art prints, hand made, in small exquisite editions by gallery artists. This catalogue will include works by Ms. Erion.

2. An archival framing service for hanging works in all media. Master framer and printmaker Ann Viggiano will be happy to assist you in framing your art with top quality materials and museum conservation techniques.

more examples by Jan Erion