September 7st - October 13th 2001
Please refer questions to Jeffrey Moose, 206.467.6951 or jmoose@jeffreymoosegallery.com.
Darlene Morgensen will open a solo exhibition of her new panoramics at Jeffrey Moose Gallery, 1333 5th Ave, Rainier Square, with a reception on Friday, Sept 7 from 5:30 to 8:30 PM. The show will go on display 9/5 and will run through Saturday, Oct. 13th.

She will also show paintings depicting scenes from the Olympic Peninsula in the Painted Table Restaurant, 95 Madison, for the months of August and September. A reception for the artist will be held on First Thursday, August 2nd from 5:00 to 6:30 PM at the restaurant.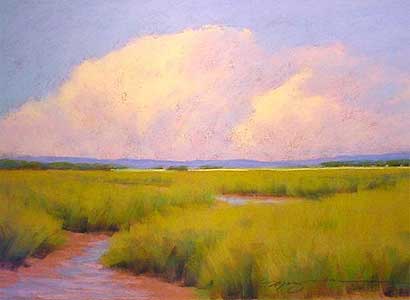 Darlene Morgensen
"For a moment"
pastel on paper


Past Northwest Pastel Society president Darlene Morgensen focuses on scenes from out of the way spots on the Olympic Peninsula, and the Puget Sound, often near her home. Her dramatic sunsets and skilled renderings of cloudy skies put her in a league with the most sensitive of landscape artists. This group of paintings, at Jeffrey Moose Gallery, will provide images of our current drought summer, featuring locations on the Olympic Peninsula as well as Eastern Washington, in farm country near Yakima.




Darlene Morgensen
"Vallery Vista at Sunset"
pastel on paper


Perhaps the reason for her sensitivity lies in her method: she paints outside, "en plien air", often returning to the studio to finish. Once back in the studio, surrounded by photos of her location, she will often play the same music on her stereo that she listened to while in the field in an attempt to continue the mood.

Her skill has been recognized by institutions and individuals alike. She has taught and demonstrated at the Seattle Art Museum during the recent show of Impressionist paintings and at Daniel Smith, Inc. Her professional affiliations, aside from the Pastel Society, include the Pastel Society of America and the American Artist's Professional League.