August 1st - September 1st 2001
Please refer questions to Jeffrey Moose, 206.467.6951 or jmoose@jeffreymoosegallery.com.
Two painters with French influences, Peggy Brunton and Phillipe Permain will exhibit a group of summer-themed paintings at Jeffrey Moose Gallery, 1333 5th Ave, Rainier Square in downtown Seattle from August 1st through September 1st. Also exhibiting will be Bainbridge ceramist Rick Stafford showing semi-transparent Neriage porcelain. A reception for the artists will be held on Friday, August 10th from 5:30 to 8:30 PM in the gallery.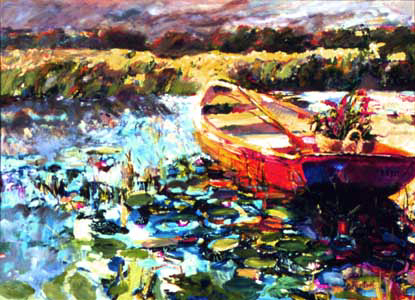 "Solo"
Peggy Brunton
Oil on canvas
30"x40"

Ms. Brunton paints impressionist oils on canvas, concentrating on floral still lives, landscapes and garden scenes, and, recently, maritime images, which are fully animated sometimes to the point of visionary. Her forceful command of a genre that has been considered the domain of painters like Renoir, Monet and Van Gogh has led her works into collections such as The Moscow Museum of Modern Art, well known for their comprehensive collection of impressionist paintings, the United States Embassy in London, the prestigious Instituto De Espana in Madrid, and several corporate and museum collections. Ms. Brunton's paintings have been received enthusiastically in Jeffrey Moose Gallery and venues curated by Mr. Moose, including Painted Table restaurant, the Alexis Hotel, the Crepe De Paris restaurant and Street of Dreams in both King and Pierce Counties. Last summer, Ms. Brunton attended Cambridge University in England where she followed an intensive summer course in Art History.
Mr. Permaine has a classical fine arts background, with extensive professional experience both in Europe and the US. His schooling in Belgium included studies in Art History, Cartooning and Philosophy at the Institut Saint Luc. His work has been published in collateral from the distinguished Alliance Francaise. In his first professional art job in the US, he worked for well known Colorado artist Vance Kirkland in a top administrative position.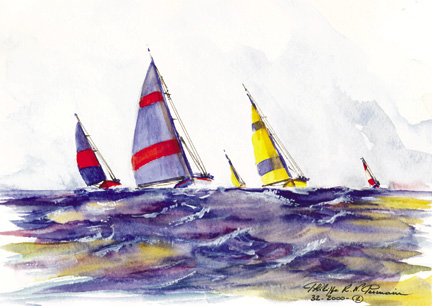 "Friday Evening Regatta"
Phillipe Permain
Watercolor on paper
9"x11.5"

Permain's work is classical approach to French paint application: he has strokes from the Impressionists combined with the big picture perspective of American Hudson Valley School painters and the charm of the 18th Century French landscape artists. His focus on boats and Marine art comes from his extensive experience as a Sailboat racer on the Mediterranean coast. The paintings have a no-nonsense charm and a purness of observation that is unforgettable. Recent forays into pastoral landscape and imagery involving people will also be on display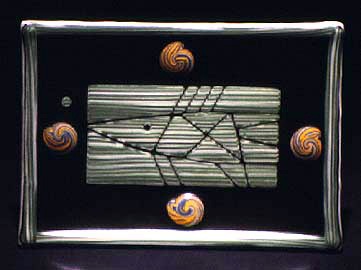 Pond Series Tray
Rick Stafford
Neriage Porcelain
9"x12"x1.5"

Rick Stafford's unusual, glass-like objects are decorated and composed of various shades of naturally colored clay, an ancient Japanese technique known as "Neriage". "The Pond Series", A new group of trays, platters, tea services and porcelain "paintings" feature images of waterlillies, lilly pads and Dragon Flies. Mr. Stafford was trained in a wide variety of European and Asian techniques at Central Washinton University by Northwest ceramic legend Richard Fairbanks.