April 25th through June 9th
Please refer questions to Jeffrey Moose, 206.467.6951 or jmoose@jeffreymoosegallery.com.
On Friday, May 4th from 5:30 to 8:30 PM, surrealist painters Louise Britton and Jeff Mihalyo will celebrate the installation of a group of new work with a reception at Jeffrey Moose Gallery, 1333 5th Avenue, the second level of Rainier Square in downtown Seattle. Complimenting these painters will be the unusual, biomorphic ceramic sculptures of Zanne Nelson. The exhibition will open on Wednesday, April 25th and run through Saturday, June 9th.
Mr. Mihalyo has been exhibiting in the Seattle area for over ten years while working as a designer and illustrator for numerous high-end clients including Microsoft, Dreamworks, Millstone Coffee, Hornall Anderson, Real Networks and Jim Hennson Studios. His soft-edged realism often comes with a humorous twist; giant shoes and barns fly through the sky with a touch that lends an air of fun rather than the ominous incongruity most often connected with works in this genre. And while "Fun" the works are far more than illustrations for children's books. They carry the air of the narrative while existing as stand alone metaphors for conflicts in modern life. Juxtapositions of Pastoral America with the Electronic Age, contrasts of scale (often featuring people as the Goliaths of Earth) and occasionally stylized renderings of elements in nature reveal a keen sense of observation that simultaneously shocks and delights.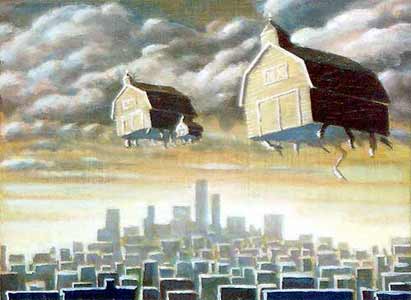 Jeff Mihalyo
"Barnetts go to town"
oil on masonite
2000
6" X 8"
Louise Britton, recently arrived from Atlanta, Georgia, paints in a style more crisp than that of Jeff Mihalyo. Her style is reminiscent of Magritte; virtuoso underpainting and modeling are hallmarks along with bold, iconic placement of seemingly incongruous objects. In "Magnolia With Burning", oil on canvas, 24"x18", an enormous white magnolia blossom, symbolic of virginal purity and of the Old South, sits seductively at the edge of foliage. A hand appearing from the bottom of the picture plane reaches up towards the flower. To the left, a sky filled with fire, smoke and clouds rises dramatically to the top of the image. Above all hangs the menacing form of a hornet's nest, a metaphor of impending danger. Like Mr. Mihalyo, Ms. Britton has also worked as an illustrator and commercial artist as well as an exhibiting fine artist. She holds an MFA from Georgia State University.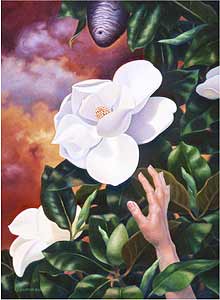 Louise Britton
"Magnolia with Burning"
1998
oil on canvas
24" x 18"
Sculptor Zanne Nelson, with an MFA from the University of Washington, is a perfect compliment to this duo: her space-age forms, somewhat animal, a little bit veggie, are familiar, yet unearthly. The colors and surfaces of her creations say little to betray themselves as objects made of clay. Their perfect symmetry and surfaces show no sign of a human hand. In a multi-dimensional world of surreal scenes, every work by Ms. Nelson feels perfectly at home, perhaps even born from the non-reality!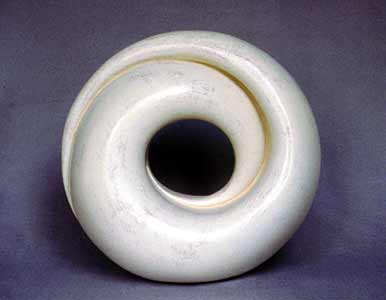 Zanne Nelson
"What Goes Around" 1998
22" X 22" X 13"