March 24th, from 2 until 6 PM
Please refer questions to Jeffrey Moose, 206.467.6951 or <jmoose@jeffreymoosegallery.com.
PRESS ADVISORY
From March 29th through April 21st Jeffrey Moose Gallery will exhibit a newly aquired group of Australian Aboriginal fine-art prints, many of which date from an important time, roughly ten years ago, when the move to make prints was just blossoming among Aboriginal artists. A number of highly significant artists are represented including the most prominent of the Aboriginal printmakers, indeed one of the top artists in Australia, Raymond Aarone Meeks. Also represented are a pair of artists who have done much for the genre and are well-known internationally, Clifford Possum (from the central Desert) and Rover Thomas (of the Kimberly region in NW Australia), who represented Australia at the Venice Bienale in 1989.
It would be hard to overstate the importance of these images and their medium to this genre. Fine art prints are always the most affordable way to begin collecting and these artists responded with a most intuitive, often billiant manner to the techniques of etching, serigraphy,relief printing and lithography.
A mere 30 years old on the international fine-art stage, these artists represent the oldest art form on Earth. With rock engravings in the Kimberly dating back to somewhere between 60 and 180 THOUSAND years, this is an art form at least twice as old as the cave paintings of Lascaux, France, whose lexicon has remained in tact, unbroken while that of the Egyptians and Sumarians became lost in the sands of time. The totemic stories related by these pictures are often told in the form of stylized aerial maps which depict the meandering, tumultuous journeys of the Dreamtime Sprits (animal, plant and human ancestors) as they wandered throughout the countryside craeting important physical features with casual and accidental deeds.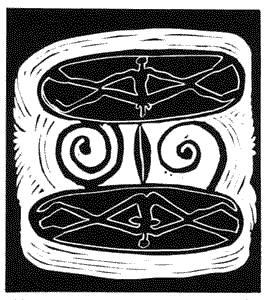 Aarone Raymond Meeks
"Full Tide"
linocut
15"x11.5 "