March 24th, from 2 until 6 PM
Please refer questions to Jeffrey Moose, 206.467.6951 or jmoose@jeffreymoosegallery.com.
PRESS ADVISORY
On Saturday, March 24th, from 2 until 6 PM, Jeffrey Moose Gallery, 1333 Fifth Avenue, Rainier Square, downtown Seattle, will host an auction to benefit a fund in support of Suquamish sculptor Bob Lucas' wife, Amy Lind. Ms. Lind has been battling breast cancer for the last year and a half. The auction will be preceeded by an exhibition of available items opening March 20th.
Ms. Lind is the mother of two beautiful girls, Mahalia and Jessica. She is a respected Naturopath in the North Kitsap community and is known and beloved by many. Her illness has been known to many in the community for some time; a steady stream of helping "Angels" have tended to their family, helped mantain the household and animals, prepared and delivered meals and generally provided every possible means of assistance. Many of their friends will be contributing their talents again to benefit Amy's ongoing march to Health.
Amy's husband, Bob is also well-known and a fixture in the arts community, responsible for a number of significant public art projects including work in downtown Winslow on Bainbridge Island, the Winslow library, several schools, the Kitsap Humane Society and others. Bob produced work commissioned for a US Embassy residence in Slovakia and was featured in an deluxe catalogue that placed him between Roy Lichtenstein and Robert Rauschenberg. He has been constantly active as an arts educator, documentor and networker. His presence and good works have been inspirational to artists of every caliber.
The generous outpouring of enthusiasm for the auction from associated artists is inspirational. The list is a Who's Who of talents from Puget Sound. Among the participating will be glass artist Bob Carlson, jewelers Jane Martin and David Weinstock, ceramicist Rick Stafford, photographers Jane Lindley and Art Grice, painters Gayle Bard, Jan Erion, Jeffrey Moose, Amy Middleton and Frank Samuelson, sculptors Bob Lucas, Larry Ahvakana , Michele Van Slyke and Brian Berman, and collage artist Suzy Kueckelhan. Other donating artists include: Susan Arthur, Belle Bezdicek, Peggy Brunton, Meredith Chernick, Tony Datillo, Terri Siebert, Maggie Smith, Richard Stine, Hidde Van Duym and Bridget Young. Donations are still being sought and interested artists are encouraged to contact the gallery.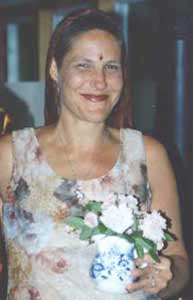 Amy Lind
Go to www.kitsapnow.com/amylindbenefit/ for images of art works available at the auction.