February 1st through March 17th 2001
Abstract painter Donald Cole will exhibit a selection of new paintings and sculptor Bob Lucas will display a new group of sculptures at Jeffrey Moose Gallery, 1333 Fifth Ave, Rainier Square in Seattle, from February 1st through March 17th. A preview of the exhibition will be held on First Thursday, February 1st from 6:00 to 7:30 PM, with a reception the following Friday, February 9th from 5:30 to 8:30 PM.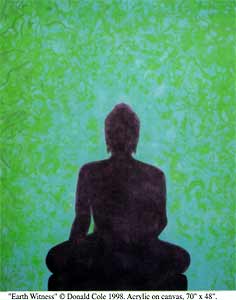 Mr. Cole is a New York transplant, now living on Vashon Island. While in New York City, for some 35 years, he developed an intriguing, complex style of abstract imagery which takes cues from microscopic organic forms, often mimicking natural textures as well as Asian calligraphy. He is a mature, mid-career painter with an extraordinary repertoire that ranges from brittle and caustic to gentle and mellifluous.
His work for this exhibition is concentrated on the idea of the Buddha and "Buddha-ness". Interestingly, although the Buddha is not literally depicted, his silhouette, or more precisely, the negative space that he occupies is the focus. This clever representation reflects Cole's understanding of Buddhist philosophy: "While our myth is our trust in technology and the Empirical Method, in the Eastern mythology people encounter the divine in a real and tangible way. This has opened up enormous expressive possibilities for me....Living and traveling in Asia, I saw that what can't be said can be shown..."
Mr. Lucas' contribution will include a pair of semi-figurative sculptures, human-sized, composed of steel rebar outlines filled with lines of beach stones arranged in rows like words in a sentence. Also on display will be a group of pedestal-top works fashioned from old circuit boards from appliances dating from the 60's and 70's. Collaged into the surfaces, with the old tubes still protruding, is a collection of unusual images and functional clocks.
Both artists have extensive exhibition histories accompanied by various museum shows and teaching assignments. Mr. Cole's exhibition history is most impressive, going back to 1968 and including: many shows with the Frank Marino Gallery and the Nancy Hoffman Gallery in NYC, shows at the prestigious New York Academy of Arts and Letters, The Museum of Modern Art as well as museum shows at The Philadelphia Museum of Art, the Delaware Museum, and the Indianapolis Museum of Art, several international shows including venues in Paris and Tokyo and scores of college and university exhibitions throughout the East Coast. Mr. Lucas has had works shown at the Seattle Art Museum, The Frye Art Museum, the Olympia Art Museum (for which he received the Governor's Award inn 1988) the Boise Art Museum and the Whatcom County Museum. He, along with Jeffrey Moose, helped to found Net Contents Gallery, a highly innovative artist's cooperative gallery on Bainbridge Island. He has been deeply involved in arts education in Kitsap county, working at middle schools and high schools as well as with the Northwest College of Art in Poulsbo and the newly created private West Sound Academy in Suquamish.
Please refer questions to Jeffrey Moose, 206.467.6951 or jmoose@jeffreymoosegallery.com.