December 15th through Janruary 2001, Holiday Fiesta Exhibition
Jeffrey Moose Gallery, on Rainier Square's second level at 1333 Fifth Avenue, is proud to announce the anuual Holiday Fiesta exhibition, featuring a wide selection of work from many gallery artists. The show will open with a reception on Friday, December 15th from 5:30 to 8:30 PM, featuring live music and holiday refreshments.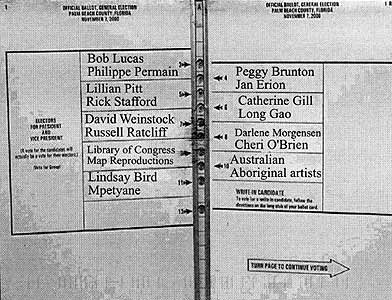 Holiday Fiesta 2k: "Hooray for Democracy!!!"
A collection of many fine art gift choices by gallery artusts.
The show will feature work by artists from Australia, China and Belgium as well as from local and national artists. Painters include Peggy Brunton, an imperssionist favoring gardens and floral still-lives, Jan Erion, whose expressionist interiors have become enormously popular, Darlene Morgensen, NW Pastel Society President and eloquent documentor of the Olympic Peninsula, Long Gao, a Chinese Master artist who creates Literati landscapes including original poetry but with an abstract twist and Catherine Gill, whose sensitive watercolor/pastel compositions and monotype prints focus on Alaska.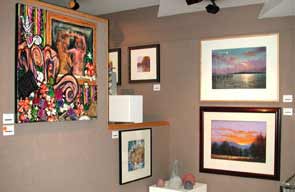 L. side: Jan Erion's "Fred and Ginger". mixed media on canvas, 36"x36" and, below, "Geraniums", collagraph print, 21"x12". Above: Darlene Morgensen's "Apricot Evening", pastel on paper, 10"x10". To R, Above, Darlene Morgensen's "Moonlight Sonata", pastel on paper, 28"x36", below "Tangerine Tangent", pastel, 28"x26"
Also in this category but necessarily separate is Helena, Montana geologist/rock artist Russ Ratcliffe. Mr. Ratcliff's "Rock Mosaics" are abstract images created by the precision cutting and fitting together of unusual rocks and minerals. Many of his pictures describe aerial views of wilderness or are pure explorations of form and color.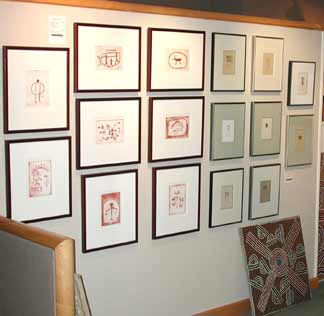 L. Dry point etchings by Lillian Pitt, R. Long Gao's Image Seal Cuttings. Below "Mulga Seed Dreaming #2" by Lindsay Bird Mpetyane, 24"x24", acrylic on canvas
Print artists include nationally known Wasco-Wishram Warm Springs Native American artist Lillian Pitt, with pertoglyph-based etchings, a variety of hand-made, small edition Australian Aboriginal prints from several regions of the country and Image Seal Cuttings by Long Gao. Also on display will be a selection of antique map reproductions, most featuring Puget Sound cities, from the collection of the US Library of Congress.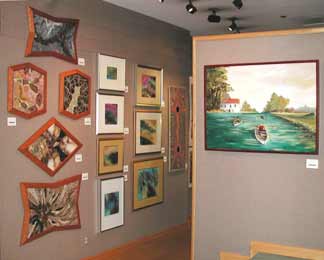 L. Rock Mosaics by Russell Ratcliff, Abstract Literati Chinese Ink paintings by Long Gao, "Mulga Seed Dreaming #1" by Lindsay Mpetyane Bird, 48"x18" and, far R, Phillipe Permain's "Le Long de la Loire", oil on canvas, 28"x32"
Three dimensional works include Neriage Porcelain by Rick Stafford, a variety of clever ornamental objects by Suquamish artist Bob Lucas, ceramic and silver jewelry by Lillian Pitt and a rich mixture of earrings, necklaces, bracelets and rings in gold and gems by award-winning Goldsmith/Master Jeweler David Weinstock.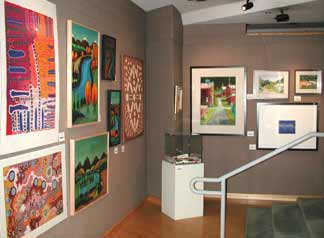 L, above: "Nulla Nullas" by Marlee Naparula, serigraph, 42"x32", below, "love Story" by Gabirella Possum Nungarrayi, serigraph, 24"x32", landscapes by Cheri O'Brien: "Flaming Alders", oil on panel, 36"x24", "Bend in the River", oil on panel, 27"x33" and others, "Men's Ceremony" by Lindsay Bird, 32"x28" and landscapes by Cathe Gill: "Juneau",pastel and watercolor on paper, 42"x34" and others.
Please refer questions to Jeffrey Moose, 206.467.6951 or jmoose@jeffreymoosegallery.com.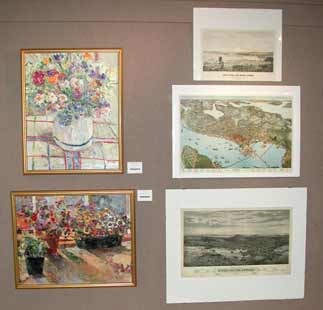 L, above Peggy Brunton's "Grandma's Tablecloth", oil on canvas, 32"x25 3/4", below Brunton's "Time to Plant", oil on canvas, 26"x32". R, (all antique map reproductions) above "View of Tacoma and Mt. Rainier,1878", 13 1/2"x20", "Seattle and Environs, 1891", 22 1/2"x32 1/2", "City of Seattle, 1878", 20 1/2"x32"