September 8th - October 21st 2000, Jan Erion and Cheri O'Brien
Jeffrey Mooose Gallery is pleased to announce an exhibition of paintings by artists Jan Erion and Cheri O'Brien from September 8th through October 21st. A reception for the artists will be held on Friday, September 8th, from 5:30 to 8:30 PM.
Ms. Erion's portion of the exhibition is filled with images of food-filled tables and dining rooms, some with people (an offshoot of her "Dinner Party" series) including the artist's friends and family. Many of the images include scraps of keepsake fabric from her family's past, old collagraph prints by the artist and other unusual collage elements from magazines and newspapers, matchbooks and wine labels. The stylistic hallmarks of Ms. Erion are her choice of bold complimentary colors, heavy black outlines and multi-media textures. The complex interior lighting and psychological spaces suggest the work of Pierre Bonnard, but with a female fauvist twist.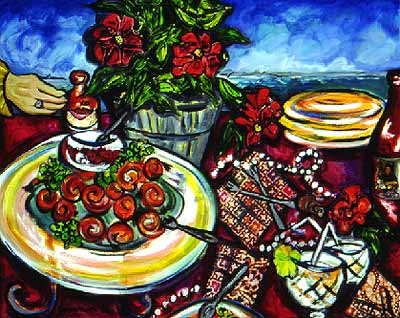 Jan Erion
"XO Sauce" 2000
mixed media
24" X 30"