Her primary medium is a unique blend of watercolor and pastel on paper. She also works in oil on canvas and as a printmaker produces etchings and monotypes. Her works in this show, watercolor/pastels and monotype prints, depict scenes of the Alaskan coast. Sweeping Mountain ranges perched on the water's edge are contrasted with quaint fishing shacks and deep waters in complex hues of steel and turquoise.

Ms. Gill has exhibited at the Frye Art Museum in Seattle, the Mystic Seaport Museum, Mystic, Conn., The American Watercolor Society, New York, The Museum of the Rockies in Montana, and has had solo exhibitions at the Edmunds Art Museum, Edmunds, WA, and several other west coast locations. Last year Ms. Gill held two successful exhibitions in Australia at Studio 27 Gallery, Brisbane and Stafford Studios Gallery in Western Australia. Recently she facilitated and participated in an artist's exchange with Ireland through the Women Painters of Washington.

Ms. Morgensen, President of the Northwest Pastel Society since 1998 and a member since 1995, works in a slightly more literal style than Ms. Gill but with plenty of emotional intensity. Her complex skies and sunsets are quite powerful, combining strong colors with subtle, virtuoso strokes and tonal fields. The magic water/mountain environments of her home in the Olympic Peninsula serve as rich subject matter. Some of her best work is on the small side with many measuring in the 6"x8" to 8"x10" range, although sizes can go to 3 by 4 feet as well.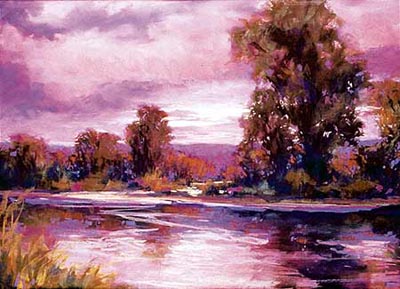 Ms. Morgensen has had reviews and interviews published in the nationally distributed Pastel Journal and issues of The Northwest Pastel Society's newsletter. Her work has earned her a half dozen first place awards in the brief 5 year period that she has been making pastel paintings.
Please refer inquiries and questions to Jeffrey Moose, Director of Jeffrey Moose gallery, (206) 467-6951, or to jmoose@jeffreymoosegallery.com




back to top