Joe Fedderson


Colville Native American Artist Joe Feddersen will exhibit a group of new monotypes and multi media prints at Jeffrey Moose Gallery, Rainier Square, in Seattle, from October 19th to November 17th.
A reception for the artist will be held on Friday, October 19th from 6:00 to 8:30 PM.

Fedderson, a 48 year old printmaking instructor at Evergreen State College in Olympia since 1989, is known for his radiant, boldly colored prints in an astounding variety of media, many of which take inspiration from traditional Colville textiles famous world-over after being

"Appropriated" and "Re-applied" by Pendelton Mills of Oregon. The depth of texture and variety of mark-making in his work betrays his status as a true master-printer. But Fedderson exceeds nearly all of his peers by his ability to fluently and effortlessly combine so many print media in a single image. If not for his "Native American" artist label and his abstract orientation he would certainly have the kind of recognition reserved for artists like Jim Dine or Robert Rauschenberg.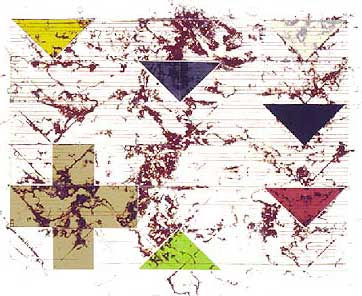 Joe Feddersen
"Shard #1"
Unique print silagraphy, chin cole
2001
27.5" x 32.25" framed